Prescott Park
In 1967, Harold Prescott, then mayor of Capreol mayor, accepted from Canadian National Railways, the donation of an authentic "mountain" type U-1-f class steam locomotive, as a memento of Capreol's history as a railroading town. Mr. Prescott, a former CNR engineer, had operated this same engine, affectionately known as "Bullet-Nosed Betty.
In appreciation for Prescott's work in acquiring the engine, a new park was created and named in his honour.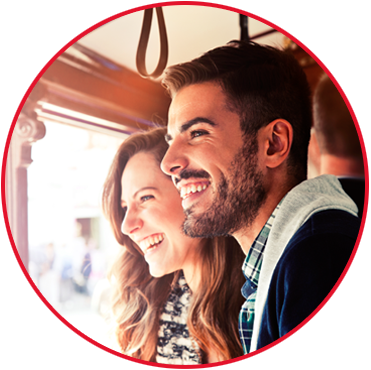 Temiskaming and Northern Ontario #219
Acquired by the Northern Ontario Railroad Museum and Heritage Centre in July, 2012 from Ontario Northland.  The #219 was originally numbered #119 and built by the Montreal Locomotive Works for the Temiskaming and Northern Ontario Railway in 1907.
The #219 was sold to Normetal Mines in 1938 before returning to Ontario in the mid-1970s to be used as an excursion train service north of Kapuskasing and operated by a private company, ACMIES Ltd, owned by Ron Morel.  Ron's untimely death doomed the enterprise and ownership of the locomotive was transfered to Ontario Northland.  The Ontario Northland considered refurbishing the locomotive themselves but costs were prohibitive.  The locomotive was temporary stored inside the diesel shop until space was no longer available and pushed out into the yard.  #219 remained in the yard for several years before it was put up for bid in 2012.
After securing cooperation from Canadian National Railway, Canadian Pacific Railway, the Ottawa Valley Railway and the Ontario Northland, the locomotive was transfered from Cochrane, Ontario to Capreol on a specialized flatbed car courtesy RailTrans Services.  Once in Capreol, the locomotive was trucked by float from the Capreol Yard to the museum officially arriving in Prescott Park on April 8th, 2014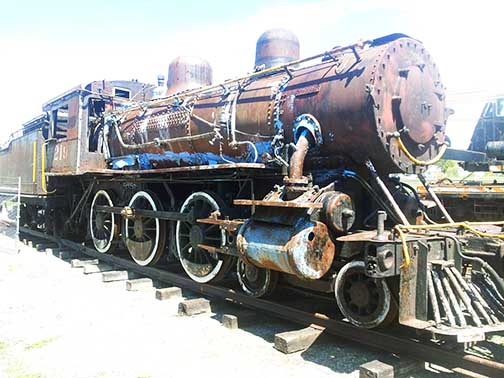 CN Rail Crane #50392
#50392 was purchased by Canadian National Railways in 1957.  It began its service life in Quebec and moved to Ontario in 1958.  Hite Services purchased the crane in 2001 and sent it to Carbondale, Illinois to work with the Illinois Central Railway.  The unit returned to Canada and was donated to the Northern Ontario Railroad Museum and Heritage Centre by Hite Services on October 31, 2013.
The unit had a travel speed of approximately 15 miles per hour. It is equipped with electrical travel generators and motors and air controls for rotating, hoisting and boom operations. It's working weight is 210,000 pounds, has a rotating speed of 2 RPM and a hosting speed of 200 FPM.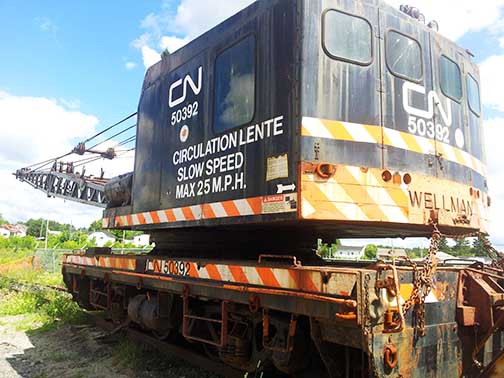 Slag Pot Car
The car was originally donated by INCO to the Big Nickel Mine for display (now Dynamic Earth) before it was moved to Science North.  It now rests in Prescott Park as an integral piece of NORMHC's Mining Exhibit.  It was used in regular service carrying slag from the Copper Cliff smelter.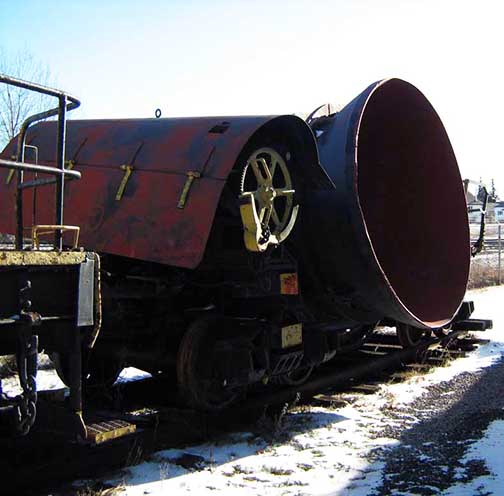 Rules Instruction Car # 15019
This car was originally built by Pullman Standard in 1912 for the ICR and named "Stratacona." Originally it was built as 10-2 sleeper and operated in passenger service. It was later configured as a rules instruction car.
J.G. Madigan, one of the instructors, taught in this car. In one half of the car were his living quarters, complete with kitchen, bedroom, dining room, living room and bathroom while the classroom was located in the other.
As a Rules Instructor, he moved through the district testing the qualifications of the operating employees and instructing them on any changes made in the rules as set down by the governing Board of Transport. The safe operation of the railroad was first priority. Employees were tested every two years and had to achieve a 90% score to pass. If they failed, they could be taken out of service.
After it's service as a Rules Instruction Car was no longer required, it was renovated and used as a public library in Gogama, Ontario. In the early eighties the Town of Capreol acquired and restored the car for Prescott Park, where it is currently on display.
Today the museum has the Rules Instruction Car on display as a School Car. The School Cars in Northern Ontario were an important part of bringing education to isolated areas. CNR School Car #1 ran out of Capreol for 41 years.
Click here for the story of Fred and Cela Sloman, their family and the "School on Wheels".
CN Snow Plow # 55208
The car was originally built in 1924 by the Eastern Car Company. This snow plow is a single track wedge plow with wings. It is operated by compressed air from the brake system with wings that are air operated.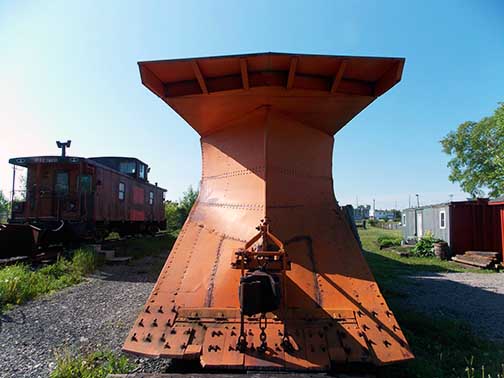 Underground Mining Equipment
Also on display is a collection of underground mining equipment used in Falconbridge / Xstrata operations.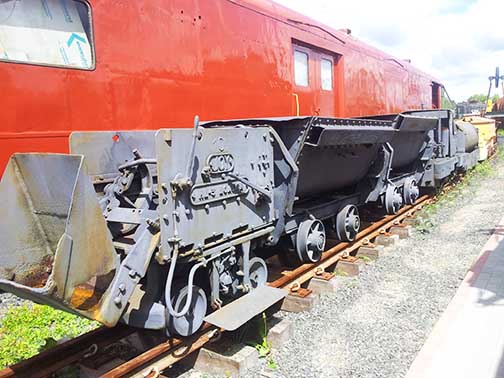 Hot Copper Car #5
The 260,000 pound car was originally donated to the museum by Vale (formerly INCO) in 2011, several years after the closing of the Copper Refinery.  Acting as a giant thermos, its purpose was to transport molten copper from the Smelter Complex to the Copper Refinery traversing the Trans-Canada highway in the process.
Rob Fleming, an employee with Vale, was determined to see the piece preserved and spent years playing "hide and go seek" with the mammoth car around Vale's property ensuring that it remained out of the way of regular operations until its transportation to Capreol could be arranged.
In 2016, the museum completed a full restoration on the unit made possible by a significant donation from Atlas Copco Canada and support from numerous local partners.  The museum has re-attached the unit's safety cabs and catwalks and outfitted the car in INCO's historic safety yellow paint scheme.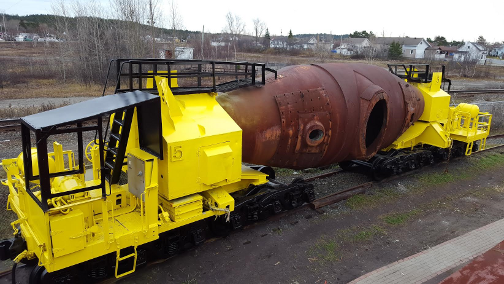 Canadian National #6077
The #6077 itself was actually in Transcona, Manitoba when it was donated to the town of Capreol. Built in Montreal, by the Montreal Locomotive Company in 1944, it was one of twenty of its kind ever manufactured numbered 6060 to 6079.
The "mountain" type was the last group of steam engines purchased by the CNR began converting its fleet to diesel. It was used chiefly for passenger and freight-service, usually running between Toronto and Winnipeg, and between Winnipeg and Montreal.
The 6077 has a 4-8-2 wheel configuration referring to the four leading wheels, eight driving wheels, and a two wheel trailing truck located under the cab.
The engine's six-foot driving wheels traveled 21 feet with every turn. It weighs 320 tons, is 93 feet long and 15 feet high. The Vanderbilt-type tender holds 18 tons of coal and nearly 12,000 gallons of water helping the locomotive attain a top speed of 125 miles per hour.
The conical nose gave #6077 a streamlined appearance, helping it obtain the nickname of "Bullet-Nosed Betty."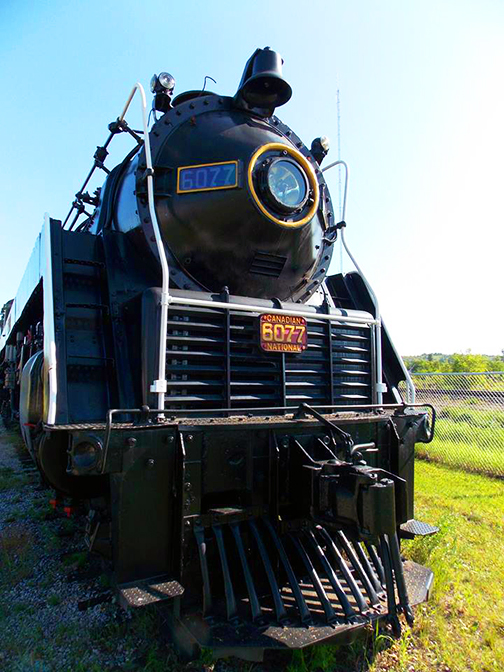 INCO Electrics
INCO Electric #101 was built by Westinghouse & National Steel Car in 1919, Serial No. LE-27; 50 ton type.  Formerly owned by the Hydro-Electric Power Commission (Ontario Government), the locomotive was used on the Queenston (Niagara) "Chippewa Project."  It was acquired by International Nickel in July of 1926 and retired in 1998 before being donated to the Northern Ontario Railroad Museum and Heritage Centre.
INCO Electric #116 was built new for INCO by General Electric in December of 1948, Serial No. 29128; 100 ton type.  The engine was rebuilt in 2000, a year before its retirement.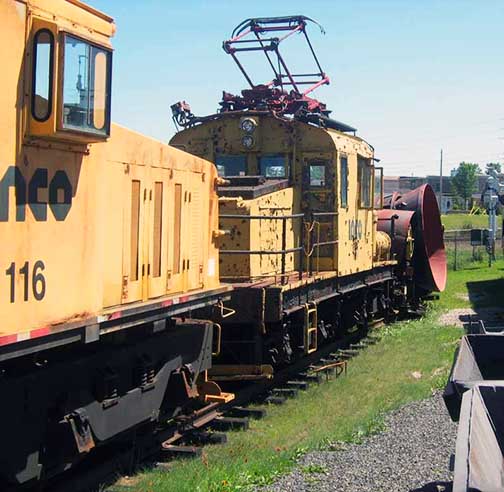 Cabooses
NORMHC is home to a pair of cabooses from different eras. The caboose, also called a "van", was a traveling home but also served as an ambulance and conveyor of goods and newspapers. It is rumored that on occasion, after work, the van also hosted a few hot poker games!
Canadian National Railways #77526 is the museum's oldest piece of rolling stock and was built of wood in 1897, likely as a box car. It is distinctive in that it is approximately 4 feet longer than the standard CNR wood-sheathed caboose. It is painted "Morency Orange" and has a green leaf with the "Serves All Canada" slogan. The caboose arrived in Prescott Park in 1969 replacing wood caboose CNR #78405 due to its deteriorating condition.
Canadian National Railways #79231 is a steel caboose built by Hawker Siddeley in Trenton, Nova Scotia in 1967.  In 1991, it was sold to local mining giant INCO as an auxiliary car for its transportation department with the intention of using it to store re-railing equipment and materials for major derailments. By 1998, the car was deemed surplus to needs and it was donated to NORMHC. It was stored at National Railway Equipment shops in Capreol until 2007 when funds were finally secured to transport it to Prescott Park for display.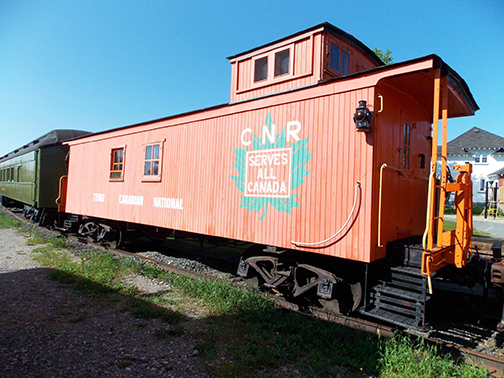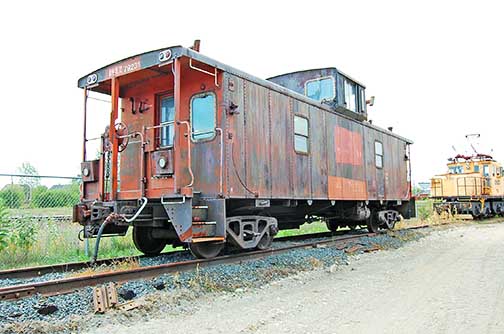 CN Warehouse-Baggage Car #60049
The car was built in October 1953 by National Steel Car (BE-73-G).  Its first identity was CN Baggage 9192. In 1974, it was re-numbered #8110. It was eventually re-numbered again as CN Service #60049 and used as an auxiliary train cable car.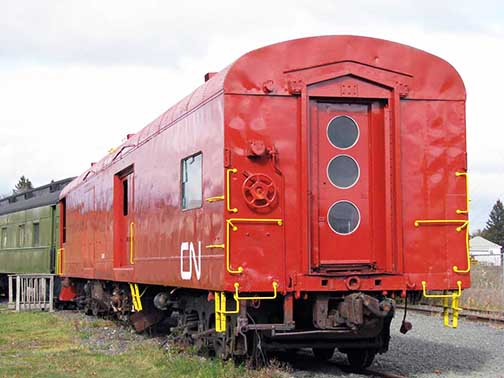 Section Man's Shed
Prescott Park also exhibits a section man shed showcasing various pieces of maintenance-of-way equipment such as handcars, velocipedes and speeders.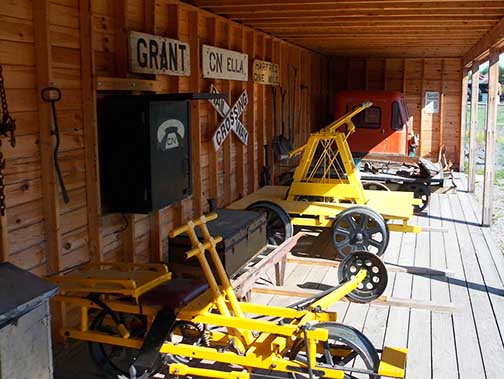 Steam Locomotive Playground
The Little Tikes playground, designed and installed by CRCS Recreation, provides an interactive exhibit for children visiting the museum.  The playground design was inspired by the museum's very own CN steam locomotive #6077.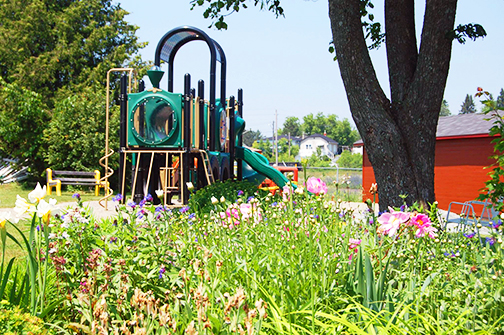 G Scale Garden Train
During the summer months, G Scale trains can be found snaking their way through the gardens around Prescott Park. Thomas the Tank engine and a few of his friends have also been known to frequent the garden tracks from time to time.